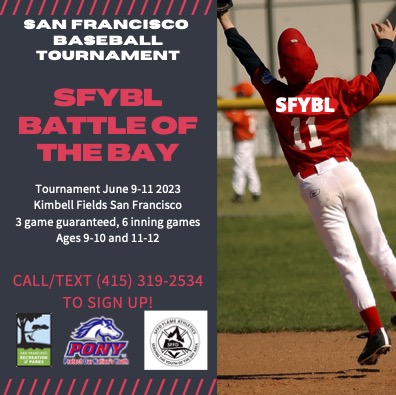 The SFYBL Battle of the Bay tournament is now open for registration.
Age groups:
10U (9 and 10U players)
12U (11 and 12U players)
The age cutoff date is May 1st
Please fill out the Google form if interested:
https://docs.google.com/forms/d/e/1FAIpQLSehFZgrT3iZXGMx_FvOFRHJqIljTmBO1-N9h4a1dOcjRKLBXQ/viewform?usp=sf_link
A $100 deposit saves your spot. The total for the tournament is $600
Dates for the tournament will be June 9th-June 11th 2023
you can send a check for $100 to save your spot, or Venmo @sfybl and leave a comment stating that the deposit is for the Battle of the Bay tournament. include your team's name in the comments.
mail check payable to "SF FLAME":
SFYBL c/o Donny Bendo
660 4th Street #290
San Francisco, CA 94107
Any questions please feel to contact me 415-319-2534
Gerald
SFYBL